Discover shared workspaces near you
By providing a seamless environment for businesses to operate in, Spacecubed enables businesses to reach their full potential.
Fit with great facilities and premium amenities, our local coworking spaces, private offices, meeting rooms and event spaces offer an experience like no other.
And the best part? They're all located within the heart of Perth's central business district, making it easier than ever for you to work, connect and grow your business.
All Spacecubed memberships offer complete solutions, including:
Fast

WiFi connection

to keep your business running smoothly
Free printing as part of your comprehensive membership
An online platform to build your

B2B connections organically

Monthly meeting room credits, and 20% off event spaces
Extensive member benefit library, including discounts on Stripe, Hubspot, AWS, Google for Startups & more
A central

Terrace mailing address

And so much more!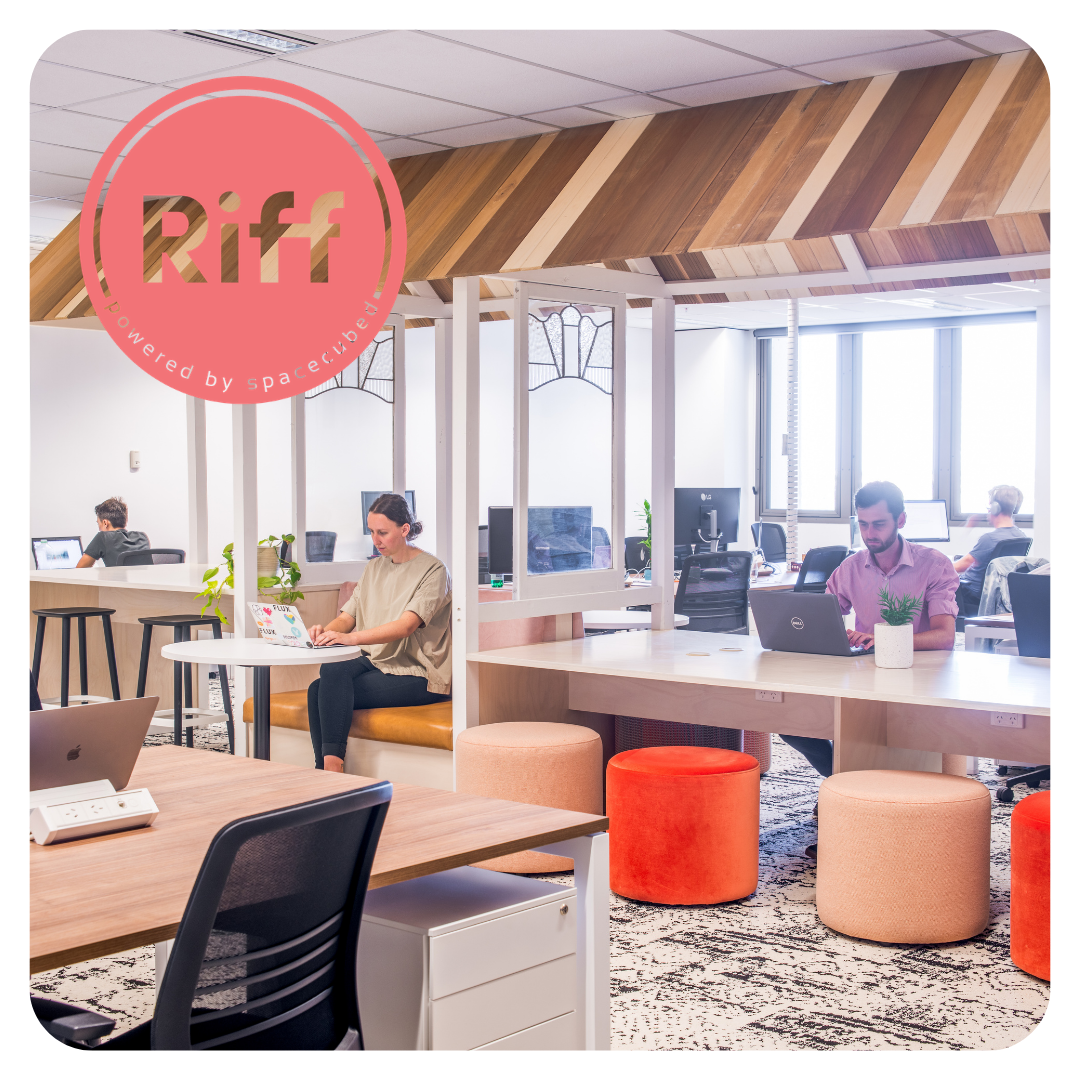 45 St Georges Terrace, Perth
Riff is uniquely designed to spark conversations and connections, and is home to many freelancers, small to medium businesses and teams.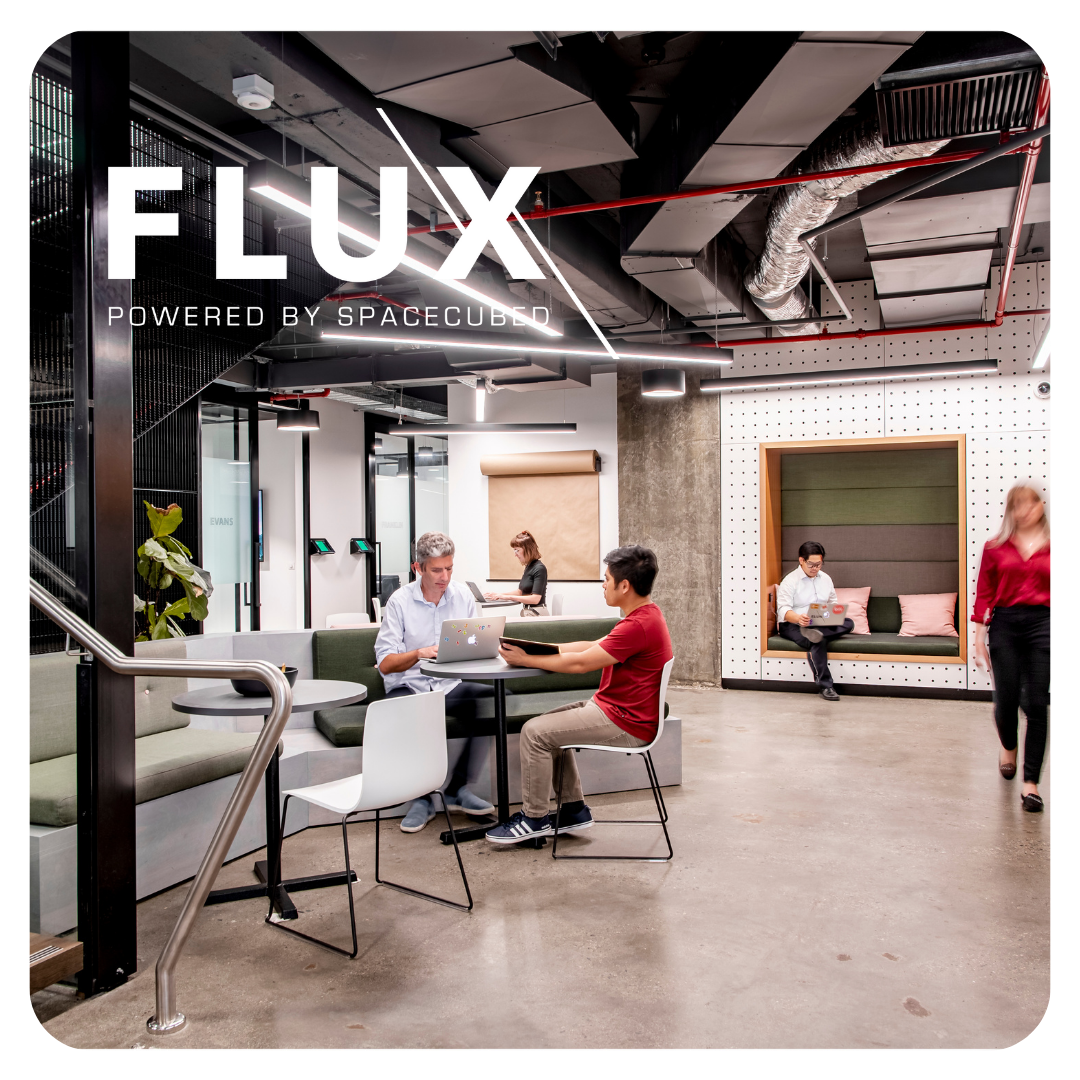 191 St Georges Terrace, Perth
FLUX is perfectly positioned in the business district to facilitate relationships with the corporate sector and larger teams looking to grow.

Frequently Asked Questions!
How often can I work from the space?
Depending on your membership level, you can access our coworking spaces from casually, to part-time to full-time. Everything is designed to suit you, and your needs!
What are the differences between Riff, FLUX and Fern?
Our coworking spaces are all designed to support you on your business journey. However, in addition to having slightly different price points, our locations also attract different communities. Riff, is a creative and startup focused space, while FLUX is home to larger corporates and SME's. Fern, as our newest flexible workspace is a premium location for those looking to impress their clients.
However, you can work from whichever space best suits you!
What types of workspaces are available?
At Spacecubed, we have hotdesking space, resident desk areas and private offices. In the hotdesking area, you can just set up and go! They're comfortable and suitable for members who need, and want flexibility.
While our resident desks and private office memberships allow you to leave your belongings behind, and have the comfort of your own space every day.
Am I locked in to a contract or minimum term?
Our memberships are designed with flexibility in mind. We believe that long-term leases are not the way forward! So you can enjoy a rolling month to month membership, or if you'd like to lock it in for security - you can also choose to do that.
Why should I join a coworking space, over getting my own office?
Working within a coworking space gives you unmatched access to community. You can build your B2B connections over lunch, meet someone new while making a coffee, or simply sit next to someone interesting.
You're also free from long-term leases, and you have the flexibility to grow your team, use our meeting rooms, host events and attend events as you please. It's all at the touch of your fingertips with our online Platform!
We could go on, and on about the benefits. But we'll leave it up to you - come in for a tour and see for yourself.
Can I view the space before I sign up?
Of course! Come in, meet the team and tour our spaces to decide which one is right for you.
Riff is a great space for hotdesking - very well geared up, nice people, excellent facilities, a wide range of events, cool vibe & surroundings.

A fantastic option for freelancers wanting to change up their work location, or other small businesses wanting office space without committing to long-term rents.
Emily Plank
My team has been at Spacecubed (FLUX) for 2 months now and it is a fantastic environment to work in. The facilities are excellent and the Spacecubed team are awesome - always helpful and very professional.

Plus the community events really help bring the different teams together to network and share ideas - if you are looking for work space for yourself or your team, look no further!
Matt Gough
We have been working at Fern for 10 months. We occupy an office there. We have found the concept of co-working working works great for our small company with the headache of facility management taken care of. The staff at Spacecubed are super helpful and the facilities are well maintained. There are plenty of meeting rooms and breakout spaces to use and regular community events are always fun (and good food). Would highly recommend using a Spacecubed offices.
Julie Arnould
Looking for a customised workplace solution?
Our membership options provide the flexibility for you and your team to grow, at an affordable price. Contact us below to discuss a custom option for you and your business. Or, if you're ready to get started straight away book a free tour here!